Union City High School, Union City, NJ
Title: Pride Club's Hallowqueen Event
Grantee: Union City High School
Team Leader: Stephanie Cedeno
Content written by: Stephanie Cedeno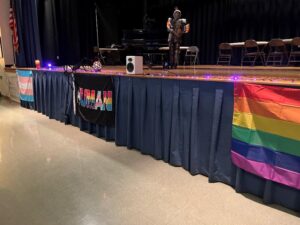 Description 
On October 23rd, Pride Club held their annual Hallowqueen event.
WHY After experiencing isolation due to the pandemic, the event was held safely in order to provide students with in person contact so they could make new friendships and/or enjoy friendships already made. Students reported how wonderful it was to be in person with one another and how they needed this gathering for their mental health. Food was catered by Chartwells and healthy food options were provided to all students. In addition, prizes were raffled for students to win.
WHO School Based's PRIDE CLUB held the event and was attended by both staff and students.
WHO: Approximately 50 Pride Members attended Hallowqueen.
The event was held on Saturday, October 23rd at Jose Marti Stem Academy's cafeteria.
The morale definitely increased by this event and the students reported how they missed being able to socialize with one another.

This event was necessary for students to come together after such a long period of isolation. Many of the students reported feeling hopeful and excited again.