Dear School Health Partners,
Welcome back to another great beginning to the school year! We are pleased to announce that we have recently awarded 30 new health and wellness grants of up to $4,000 to schools across the state. We nearly doubled the number of applicants since our last funding cycle and are thrilled about the new projects for the upcoming school year.
Through our partnership with Sustainable Jersey for Schools the Department of Health's adolescent school health program released $120,000 of funding to help middle and high schools achieve our vision that New Jersey youth are healthy and ready to learn in a school environment that supports wellness and offers opportunities for healthy choices. Please click here to learn more about this year's grant awardees and their wide array of exciting health and wellness projects.
We have included three (one from each region) success stories from our 2015-2016 grant recipients. Please enjoy reading about their victories!
We look forward to keeping you informed about school health in New Jersey throughout the year. Please contact us anytime with questions or comments. We look forward to hearing from you!Louise A. Spencer Newark Public School, Newark NJ: "Newark School Plants Seeds Towards a Healthier Tomorrow"Louise A. Spencer School serves inner city families in Newark, New Jersey. The attendance rates at Louise A. Spencer are the lowest of any school in Newark. Over time, parents and community members have become disenfranchised with the educational system. In an attempt to build the bridge between families and the school community, Louise A. Spencer Public School staff and students joined forces to create a community garden. "What started as a gardening project evolved into a collaboration of sustaining our community through improved nutrition, positive goals and recycling," said RoseMary Kita, School Health Wellness Team Leader. Louise A. Spencer Newark Public School's primary goal was to assist students in becoming happy, productive members of society, while protecting their ecosystem. Their target audiences were the students of Louise A. Spencer School and its community members.
To achieve their goals Louise A. Spencer School created a composting area, expanded their vegetable gardens and made fresh produce available to local families. They then took it a step further by installing a freezer which allowed for free frozen milk to be kept and distributed to community members. Louise A. Spencer Newark Public School's initiative impacted over 100 students, staff and community members ultimately planting the seed for a healthier, more united Newark.
F.W. Holbein's Middle School, Mount Holly, NJ: "Wellness Wednesdays"F.W. Holbein's Middle School Green Team and Health/Wellness club initiated "Wellness Wednesdays", a wellness/fitness program for grades 6-8, along with staff, 30 minutes before the bell from October 2015 through May 2016. Every week students and staff participated in various activities such as: yoga, walking, cross fit, or dance. All students were invited to participate from the athletic child to the nonathletic child. An average of 25 students and 5-8 staff participated on a weekly basis. Through the morning program students learned how staying fit and healthy leads to a successful school/work day.
As a result of the grant opportunity, the district has budgeted extra-curricular funds at all 3 schools in the district to implement wellness/fitness programs similar to Wellness Wednesdays. The students and staff of F.W. Holbein were able to engage in several wellness activities that will create habits for a healthy active lifestyle, healthy minds, as well as impact the climate and culture of the school day.Orange Avenue School, Cranford, NJ: "Expanding After-School Options for Middle Schoolers"Orange Avenue middle school students who do not want to try out for a pay-to-play team can still stay active thanks to the creation of three new after-school clubs. 122 students were engaged in healthy after-school activities that they would not have otherwise participated in. Teachers and students exercised and played together fostering critical bonds. More than 50 students participated in yoga and 22 in golf on a weekly basis.
Exposing students to these activities at a young age opened new avenues of exercise that can be enjoyed throughout life. For students who wanted a team sport the school provided a volleyball club. The response was so overwhelming that the school had to cap it at fifty 8th graders. The club fostered teamwork and provided opportunities to build skills. In fact, many students expressed interest in pursuing volley ball at the high school level. Congratulations Orange Avenue School on these healthy initiatives!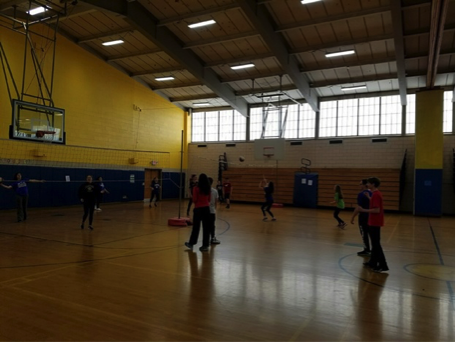 Save the Date!
2nd Biennial School Health Summit: May 4, 2017  More to come…